AY Clients - European Corner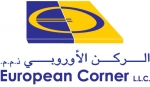 In cooperation with Mr. Zaher, the European website which is very elegant and professional looking website has been developed. From their old static website we developed a new one that will showcase their products. We added Login Form for the client and you will be captivated with its big flash animated picture.

Testimonials

I love my website designed with the help of AYMarketing - they are talented and experts in their field and above all very reliable.. I wholeheartedly reccommend their services.

CARi